If you're anything like me – wanting a significant role in a significant project to bring about significant outcomes – today's chapter shows how role selection in the world's longest running drama is based on availability…
READ JUDGES 6  Make notes, if you'd like, of what stands out for you. Feel free to use the "Leave a Comment" box below to also write some of your thoughts.
A THOUGHT FOR TODAY:
I'd often tell people that the Creator God uses anyone with a willing heart. But then I'd get angry because He never seemed to use me in what I was willing for. It took 50 years to learn what it was to be available and yet, at the same time, trusting that my Maker knew my ability.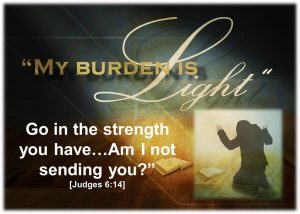 In today's chapter, Gideon rises to eternal fame in the world's longest running drama not because he thinks he has the ability – clearly he questioned the ridiculous notion of being picked. [v15] But the Author of the Script knew two things. He knew what Gideon was like inside [v12] – what he was capable of being, and becoming – because He knitted Gideon together in His mother's womb.[a] The Creator also knew that He'd be with Gideon. [v14,16] So the question in our Maker's mind isn't over our ability. The thing that gives us a place in HISstory (no matter how small) is, our availability and the fact that His Presence goes with us.
Read More? …CLICK on "10 May – Additional Notes"
But what about your thoughts – can you tell me what today's "breadcrumb" is? Leave a note in the "Comments" box below to tell me what you think of today's chapter.
Wanting to speak directly with your Maker? The rest of this webpage uses Jesus' own prayer to help…[b]
THE LORD'S PRAYER:
   1.   Praise: "Our Father in heaven, hallowed be Your Name. Your Kingdom come! Your will be done on earth as it is in heaven …"
The Lord lives! Praise be to my Rock! Exalted be my God, the Rock, my Saviour! [2 Samuel 22:47]
   2.   Ask: "…Give us today our daily bread…"
Your Country's response to needs in Africa

Yourself: Opportunities to serve God

Your concerns for today

Jesus said: "Truly I tell you, if you have faith and do not doubt, not only can you do what was done to the fig tree, but also you can say to this mountain, 'Go, throw yourself into the sea,' and it will be done. If you believe, you will receive whatever you ask for in prayer." [Matthew 21:20-22]
   3.   Admit: "…Forgive us our sin as we forgive those who sin against us…"
Hear from heaven, Father God, and forgive the sin of your servant and your people. Teach me the right way to live. [1 Kings 8:36]
   4.   Protect: "…Lead us not into temptation but delivers us from evil."
Because I love You, Lord, You've promised to rescue me and protect me, for I acknowledge Your name. [Psalm 91:14]
 "For Yours Lord is the Kingdom, the Power and the Glory now and forever. Amen!"
When Jesus was questioned, tested, tricked or in His hour of great need, He always spoke things that were previously written in God's Word.[e] Following these memory verses from ten topics, will help you learn 52 verses from the bible in a year!  THIS WEEK'S MEMORY VERSE: An Assured Future
Jesus said: "Anyone who chooses to do the will of God will find out whether my teaching comes from God or whether I speak on my own." [John 7:17]
[a] Job 10:8-12; Psalm 139:13
[b] Matthew 6:5-15
[c] http://www.operationworld.org/node/165
[d] http://www.operationworld.org/node/166
[e] Matthew 4:4,6,7,10; 11:10; 21:13; and 26:24,31