Today's chapter shows how consolidation and common language supports a common philosophy. This unleashes "group think", which spawns growth, expansion and ultimate advancement…
READ GENESIS 11  Make notes, if you'd like, of what stands out for you. Feel free to use the "Leave a Comment" box below to also write some of your thoughts.
A THOUGHT FOR TODAY:
Every chapter in the Book of Genesis is an incredibly important building block for understanding how we got to where we are today. One more unique scenario is written into today's chapter: originally, humankind had one language!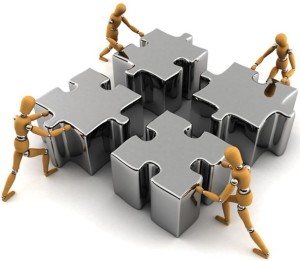 This scenario has never been experienced in history until this millennium! For the first time in history, people from every country today (and most especially, country leaders and influencers in important places) can now read, speak, understand and operate in a common language. Now that our global leaders have a common language in relative peace, what common philosophy will underpin their common purpose and advancement plans, once their "group think" is unleashed?
High on the agenda of globalization will almost certainly include: "going down in history"; "leaving a mark"; sticking together and "making a name" for oneself. But besides the Bible, there seems to be no other commonly available documentation on earth that gives us an historic cause for migration, gene pools, and diverse language differences. The only detailed documentation to survive our ancient past, tells us that they banded together to make a name for themselves so that they "wouldn't be scattered aboard on the face of the whole earth". [v4]
With only one other documented time in human history when an opportunity had arisen for humankind to band together with a common language, it seems that unleashing "Group Think" produced a common goal that was exactly opposite to their blueprint design, and why they were created in the first place![a] …Read More? … CLICK to follow "08 January – Additional Notes"
But what about your thoughts – can you tell me what today's "breadcrumb" is? Leave a note in the "Comments" box below to tell me what you think of today's chapter.
Wanting to understand what your Maker thinks? The rest of this webpage uses Jesus' own prayer to help.[b]
THE LORD'S PRAYER:
   1.   Praise: "Our Father in heaven, hallowed be Your Name. Your Kingdom come! Your will be done on earth as it is in heaven …"
I pray Lord, show us Your Glory! [Exodus 33:18]
   2.   Ask: "…Give us today our daily bread…"
The World: Issues you know of around the World[c]

Your Country: Bible-based Education Institutions

Yourself: Your financial needs

Your concerns for today

Thank-you Father for being the God who supplies all our needs according to Your riches in glory in Christ Jesus. [Philippians 4:19]
   3.   Admit: "…Forgive us our sin as we forgive those who sin against us…"
Let Your ear now be attentive and Your eyes open to hear the prayers I'm praying before You, Lord. Day and night, on behalf of myself and others, I confess the sins of Your people that we've sinned against You. Both I and my father's house have sinned. [Nehemiah 1:6]
   4.   Protect: "…Lead us not into temptation but delivers us from evil."
Lord, help me to wait for You. In all circumstances may I be strong and let my heart take courage. Yes, I'll wait for You Lord. [Psalm 27:14]
"For Yours Lord is the Kingdom, the Power and the Glory now and forever. Amen!"
When Jesus was questioned, tested, tricked or in His hour of great need, He always spoke things that were previously written in God's Word.[d] Following these memory verses from ten topics, will help you learn 52 verses from the bible in a year! THIS WEEK'S MEMORY VERSE: Topic = The Creator God's Salvation Plan
"…He saved us, not because of righteous things we had done, but because of His mercy. He saved us through the washing of rebirth and renewal by the Holy Spirit…" [Titus 3:5]
[a] Genesis 1:26-28
[b] Matthew 6:5-15
[c] Use the news to pray for decisions of Governments
[d] Matthew 4:4,6,7,10; 11:10; 21:13; and 26:24,31