If you're like me and notice the rich/poor divide, it can sit uncomfortably at times that I should be so lucky, fortunate or blessed. Today's chapter, written by Jesus' brother James, shows that shared wealth is the issue…
READ JAMES 5  Make notes, if you'd like, of what stands out for you. Feel free to use the "Leave a Comment" box below to also write some of your thoughts
A THOUGHT FOR TODAY: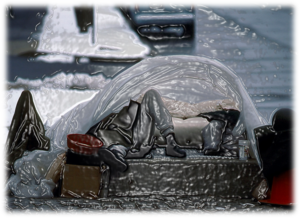 Recently, I had the privilege of visiting our daughter and son-in-law in Seattle. Every day, however, I saw people asleep on the street or living in tents under bridges. Still others staggered passed us shouting, or talking to themselves while under the influence of drugs or alcohol – probably used to fight off the cold. If there's many forms of wealth and many levels blessing then, being part of the world's top 10% scares me, especially when I read:
"Now listen, you rich people, weep and wail because of the misery that is coming on you. Your wealth has rotted, and moths have eaten your clothes. Your gold and silver are corroded. Their corrosion will testify against you and eat your flesh like fire because you've hoarded wealth in the last days." [v1-3]
The Good News in v4-6, however, James quickly qualifies who he's talking to. No matter what level of comfort we're experiencing, James wants us to stop and think before we use what we have on ourselves. At the start of this Christmas season, I need to think about the true meaning of Christmas. Instead of getting sucked into consumerism, I need to think about what's important to Father God. How am I compassionately using what I have when "spending" my time, my energy and resources? And what about taking "shared wealth" to a deeper level: How am I distributing my prayers or sharing my knowledge of Father God's Global Masterplan for Blessing all families on earth.[a]
Read More? … CLICK to follow "05 December – Additional Notes"
But what about your thoughts – can you tell me what today's "breadcrumb" is? Leave a note in the "Comments" box below to tell me what you think of today's chapter.
Finding it hard to talk with the God who Cares? The rest of this webpage uses Jesus' own prayer to help.[b]
THE LORD'S PRAYER:
1.   Praise: "Our Father in heaven, hallowed be Your Name. Your Kingdom come! Your will be done on earth as it is in heaven …"
You put a new song in my mouth, O Lord. It's a hymn of praise to our God. Many will see and fear You, Lord. They'll put their trust in You. [Psalm 40:3]
   2.   Ask: "…Give us today our daily bread…"
The World: The people of the United Kingdom[c]

Your Country: Christmas events and Outreaches

Yourself: Moral Excellence

Your concerns for today

Jesus said: "You did not choose me, but I chose you. I appointed you so that you might go and bear fruit that will last, and so that whatever you ask in My name, the Father will give you." [John 15:16]
   3.   Admit: "…Forgive us our sin as we forgive those who sin against us…"
Lord help me not be afraid. I've done all this evil; yet I won't turn away from You, Lord. I'll serve You with all my heart. [1 Samuel 12:20]
   4.   Protect: "…Lead us not into temptation but delivers us from evil."
The Sovereign Lord is my strength; He makes my feet like the feet of a deer, He enables me to tread on the heights. [Habakkuk 3:19]
"For Yours Lord is the Kingdom, the Power and the Glory now and forever. Amen!"
When Jesus was questioned, tested, tricked or in His hour of great need, He always spoke things that were previously written in God's Word.[d] Following these memory verses from ten topics, will help you learn 52 verses from the bible in a year!  THIS WEEK'S MEMORY VERSE: Topic = Spiritual Conflict
"Submit yourselves, then, to God. Resist the devil, and he will flee from you." [James 4:7]
[a] Gen 12:3; 18:18; 22:18; 26:4; 28:14 and Acts 3:25
[b] Matthew 6:5-15
[c] http://www.operationworld.org/country/unki/owtext.html
[d] Matthew 4:4,6,7,10; 11:10; 21:13; and 26:24,31