With a myriad of forms of "wisdom" offered to us from every side, I wonder how it's possible to nail down wisdom…
READ ECCLESIASTES 12   Make notes of what stands out for you. Feel free to use the "Leave a Comment" box below to also write some of your thoughts.
A THOUGHT FOR TODAY:
Driving along in the car one day, our daughter told us that a pop star had spent one million USD on diamond studded fingernail polish. It seemed absurd to me, knowing how easily nail polish can chip off! Imagine losing the diamonds every time you washed the dishes!!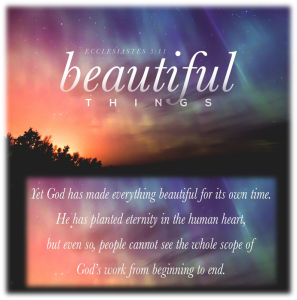 I know what wisdom doesn't look like, but what does it look like? Well, three millenniums ago, King Solomon of Israel (reputed to be the wisest man on earth) nailed down wisdom to one simple thing: "The conclusion, when all has been heard, is: fear God and keep His commandments, because this applies to every person." [v13] I'd like to add to this in some way, but I can't. Get this right today and we've nailed down everything there is to nail! Read more? … CLICK to follow "05 August – Additional Notes"
But what about your thoughts – can you tell me what today's "breadcrumb" is? Leave a note in the "Comments" box below to tell me what you think of today's chapter.
Wanting to connect with the One who, by wisdom, created everything we see? The rest of this webpage uses Jesus' own prayer to help…[a]
THE LORD'S PRAYER:
   1.   Praise: "Our Father in Heaven, how great is Your name! Your Kingdom come! Your will be done on earth as it is in Heaven…" 
O Lord my God, there's no God like You in heaven above or on earth beneath, keeping covenant and showing loving-kindness to Your servants who walk before You with all their heart." [1 Kings 8:23]
   2.   Ask: "…Give us today our daily bread…"
The world: Unity and humility among Church Leaders in South Korea[b]

Your nation: The connection between authorities and churches

Yourself: Greater insight into Scripture

Your concerns for today

Thank-you Father God for the grace given to me through Jesus: though He was rich, yet for my sake He became poor, so that through His "season of poverty" I might become rich. [2 Corinthians 8:9]
   3.   Admit: "…Forgive us our sins, as we forgive those who sin against us…"
Lord, please help me to remember that You don't delight in burnt offerings or sacrifices, so much as someone who obeys Your voice. To obey is better than sacrifice and to heed is better than the fat of rams. [1 Samuel 15:22]
   4.   Protect: "… Lead us not into temptation but deliver us from the evil one…"
Who am I, O

Lord

God, and what is my family that You've brought me this far by Your GRACE? [1 Chronicles 17:16]
"For Yours Lord is the Kingdom, the Power, and the Glory for ever and ever. Amen!"
When Jesus was questioned, tested, tricked or in His hour of great need, He always spoke things that were previously written in God's Word.[c] Following these memory verses from ten topics, will help you learn 52 verses from the bible in a year! THIS WEEK'S MEMORY VERSE: Topic = Prayer
"If anyone lacks wisdom, you should ask God, who gives generously to all without finding fault, and it will be given to you." [James 1:5]
[a] Matthew 6:5-15
[b] http://www.operationworld.org/country/kors/owtext.html
[c] Matthew 4:4,6,7,10; 11:10; 21:13; and 26:24,31