This chapter may hold a key to the untold story of the Father's grief…
READ MATTHEW 27  Make notes, if you'd like, of what stands out for you. Feel free to use the "Leave a Comment" box below to also write some of your thoughts.
A THOUGHT FOR TODAY:
At least sixteen stories in the Creator's epic storyline, speak of people tearing their clothes or robes in shock and grief. This was often accompanied with putting on sackcloth and laying in ashes. So it was with renewed interest, after Mike passed away, that we read the familiar Easter story from the point of view of the Father's grief.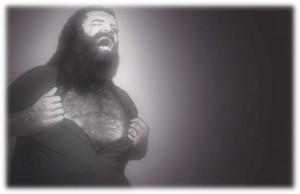 For decades I've understood the death of Christ from my own view point. I benefit from His "atoning" sacrifice because He's the "lamb of God who takes away the sin of the world".[a]Although I'd wondered about Father God's feelings on the day Jesus died, on the whole, I was blind.
Until our Michael died, I was blind to what it would feel like to experience excruciating pain when a sword pierces one's soul.[b]  In exquisite pain, Father God turned His face away. [v46] He did this to accomplish a prearranged agreement that dated back millenniums.[c] So then, beyond obliterating the world, there was nothing left for the Father of Creation to do but to tear the only "robes" He had in bitterness of grief…
"…Jesus cried out again with a loud voice, and yielded up His spirit. Just then, the curtain in the temple was torn in two from top to bottom; the earth shook and the rocks were split…" [v50-51]
Read More? …CLICK on "05 April – Additional Notes"
But what about your thoughts – can you tell me what today's "breadcrumb" is? Leave a note in the "Comments" box below to tell me what you think of today's chapter.
Wanting to speak directly to Father God? The rest of this webpage uses Jesus' own prayer to help…[d]
THE LORD'S PRAYER:
   1.   Praise: "Our Father in heaven, hallowed be Your Name. Your Kingdom come! Your will be done on earth as it is in heaven …"
My mouth will speak in praise of You, Lord. Let every creature praise Your holy name for ever and ever. [Psalm 145:21]
   2.   Ask: "…Give us today our daily bread…"
The World: Pray for God's Grace on China[e]

Your Country: Self-destruction through addictions

Yourself: Negative results from loss or grief

Your concerns for today

What other people group is so great as to have their gods near them the way You, Lord our God, are near us whenever we pray? [Deuteronomy 4:7]
   3.   Admit: "…Forgive us our sin as we forgive those who sin against us…"
Lord, all of us are like sheep – we've all gone astray. Each of us has turned to our own way. But You, Lord, have laid on Jesus the iniquity and sin of us all. [Isaiah 53:6]
   4.   Protect: "…Lead us not into temptation but delivers us from evil."
Jesus said: "All those the Father gives me will come to me, and whoever comes to me I'll never drive away. [John 6:37]
"For Yours Lord is the Kingdom, the Power and the Glory now and forever. Amen!"
When Jesus was questioned, tested, tricked or in His hour of great need, He always spoke things that were previously written in God's Word.[f] Following these memory verses from ten topics, will help you learn 52 verses from the bible in a year! THIS WEEK'S MEMORY VERSE: Giving God's Good News
"Pray also for me, that whenever I speak, words may be given me so that I will fearlessly make known the mystery of the gospel…" [Ephesians 6:19]
[a] John 1:29
[b] Luke 2:34-35
[c] Genesis 22:14-16a
[e] Hebrews 6:13-20
[d] Matthew 6:5-15
[e] http://www.operationworld.org/country/chna/owtext.html
[f] Matthew 4:4,6,7,10; 11:10; 21:13; and 26:24,31