I wonder how many of us spend our lives waiting for something significant to happen? If so, then today's chapter shows what's required of us while we wait…
READ 1 THESSALONIANS 4  Make notes, if you'd like, of what stands out for you. Feel free to use the "Leave a Comment" box below to also write some of your thoughts.
A THOUGHT FOR TODAY:
I'm intrigued by how just one person from ancient times, can still have an influence over more than a third of the world's population, in the 21st century! With three world religions claiming their heritage back to Abraham, I wonder who this ancient personality really was. He seemed to live a quiet life, minding his own business while he raised livestock. But it seemed to be Abraham's quite subsistence (yet his enduring influence across the globe today) that diminished the significance I'd placed on my own achievements.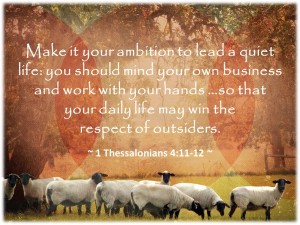 Known for my focus and my command over situations, I had a desire to leave my mark on what I'd built up. But my life's mission statement now seems to be to: "…make it my ambition to lead a quiet life; mind my own business and work with my hands so that my daily life may win the respect of others…" [v11-12]
I think that this was all Abraham did in his life. If that's true, then while I'm waiting for something significant to happen [v13-18], I may just look into the definition of what it means to "mind my own business"!  …Read more? … CLICK to follow "04 November – Additional Notes"
But what about your thoughts – can you tell me what today's "breadcrumb" is? Leave a note in the "Comments" box below to tell me what you think of today's chapter.
Wanting to connect with Abraham's God? The rest of this webpage uses Jesus' own prayer to help…[a]
THE LORD'S PRAYER:
   1.   Praise: "Our Father in Heaven, how great is Your name! Your Kingdom come! Your will be done on earth as it is in Heaven…"
I'll praise You, Lord, among the nations. I'll sing the praises of Your Name. [Psalm 18:49]
   2.   Ask: "…Give us today our daily bread…"
The World: God's Grace on Sri Lanka[b]

Your Nation: The elderly & those in Care Homes

Yourself: The "renewal" of your mind

Your concerns for today

As for me, Lord, may I never sin against You by failing to pray for others. Help me to teach those I can, the way that is good and right. [1 Samuel 12:23]
   3.   Admit: "…Forgive us our sins, as we forgive those who sin against us…"
May it be that no condemned thing will ever be found in my hands, Father God. Then You'll turn from Your fierce anger, You'll show me mercy, and You'll have compassion on me. [Deuteronomy 13:17]
   4.   Protect: "…Lead us not into temptation but deliver us from the evil one…"
Help me to continually offer to You my sacrifice of praise, O Lord – the fruit of my lips that openly profess Your Name. [Hebrews 13:15]
" For Yours Lord is the Kingdom, the Power, and the Glory for ever and ever. Amen" 
When questioned, tested, tricked or in His hour of great need, Jesus spoke what was previously written in God's Word.[c] So, the final section on this page is about memorizing the script through 10 topics. Following these will help you learn 52 portions from the bible in a year! THIS WEEK'S MEMORY VERSE: Topic = Spiritual LIFE
"And if the Spirit of Him who raised Jesus from the dead is living in you, He who raised Christ from the dead will also give life to your mortal bodies because of His Spirit who lives in you." [Romans 8:11]
[a] Matthew 6:5-15
[b] http://www.operationworld.org/country/sril/owtext.html
[c] Matthew 4:4,6,7,10; 11:10; 21:13; and 26:24,31