Today my breadcrumbs move into what's called the "Wisdom Literature". Someone once said that wisdom is knowledge that's applied correctly…
READ PROVERBS 1  Make notes of what stands out for you. Feel free to use the "Leave a Comment" box below to also write some of your thoughts.
A THOUGHT FOR TODAY:
I'm continually proud of my girls and my husband. Instead of looking in and down, they're looking out and up, and their snippets of wisdom still make me well up inside:
Akila's Facebook Post 1/8/15: "6 years ago today, we'd arrived in St Vincent (Caribbean) after a 2+ week sea voyage from Cork (Ireland). Then the news came. I was woken at 4am to be told that Mike had gone to Heaven. My friends surrounded me with love and care but there's no right or wrong way to grieve. I personally choose to seize moments, create memories & celebrate life… "One dance, one look, one kiss… That's all we get, Albert." – Hitch – the last movie Mike watched before going to bed, falling asleep and entering Eternity.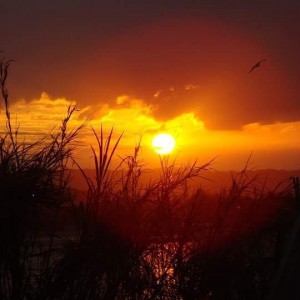 Laura's Facebook Post 1/8/15: Six years ago today I said goodnight to my "Bruskie". That was the last time I ever saw him. Many sunsets have gone by since then and many days have been a challenge. However, I thank God for His goodness and faithfulness; for giving me strength when I needed it most!!! But most of all, I thank God for a bl**dy good big brother who blessed me with such wonderful memories. Good morning 1st August, I'm still standing!
We're now well into the second decade after our lovely boy left us and Mark & I continue to look for wisdom in the strokes of the bigger picture. What once appeared to be a classic disaster, turns out to be the greatest story ever told and by it we're still standing! Read more?? …. CLICK "01 August – Additional Notes"
Wanting to speak directly with the God of Wisdom? The rest of this webpage uses Jesus' own prayer to help…[a]
THE LORD'S PRAYER:
   1.   Praise: "Our Father in Heaven, how great is Your name! Your Kingdom come! Your will be done on earth as it is in Heaven…" 
Thank-you God, that even this day of all days, is the day which You have made. I'll choose to rejoice and be glad in it. [Psalm 118:24]
   2.   Ask: "…Give us today our daily bread…"
The world: Peace and stability in Kenya[b]

Your nation: Your country leader and government

Yourself: Protection from the "evil one"

Your concerns for today

Please Lord, satisfy me in the morning with Your loving-kindness that I may sing for joy and be glad all my days. [Psalm 90:14]
   3.   Admit: "…Forgive us our sins, as we forgive those who sin against us…"
Father God I bring my prayers to you. Take away my wrong-doing and receive me graciously so that I may present to You a sacrifice – the fruit of my lips. [Hosea 14:2]
   4.   Protect: "… Lead us not into temptation but deliver us from the evil one…"
I want to be strong in You, Lord, and let my heart take courage, for I put my hope in You. [Psalm 31:24]
"For Yours Lord is the Kingdom, the Power, and the Glory for ever and ever. Amen!"
When Jesus was questioned, tested, tricked or in His hour of great need, He always spoke things that were previously written in God's Word.[c] Following these memory verses from ten topics, will help you learn 52 verses from the bible in a year! THIS WEEK'S MEMORY VERSE: Topic = God's Word
"But his delight is in the Law of the Lord, and on His Law he meditates day and night." [Psalm 1:2]
[a] Matthew 6:5-15
[b] http://www.operationworld.org/country/keny/owtext.html
[c] Matthew 4:4,6,7,10; 11:10; 21:13; and 26:24,31