Swimming against the tide isn't just tiring, it can (when the circumstances and currents are right), be seriously life-threatening…
READ ACTS 26   Make notes, if you'd like, of what stands out for you. Feel free to use the "Leave a Comment" box below to also write some of your thoughts.
A THOUGHT FOR TODAY:
I'm reminded today that when my worldview or framework is different to those around me, it's like swimming against the current! But when I'm feeling different (such that I'm feeling left out, or not liked; that my thoughts, ideas, and suggestions are unwanted; and I'm feeling like I'm from another planet), I'm not alone. My Maker's Kingdom, and His culture, aren't tied to the culture of this planet either.
What Paul was saying, in today's chapter, wasn't new to Jewish teachings concerning the Creator God. To "repent and turn to God" or to "turn from the dominion of satan to the power of God"[v18], were concepts known to King Agrippa, and why they found no fault in Paul. [v31-32]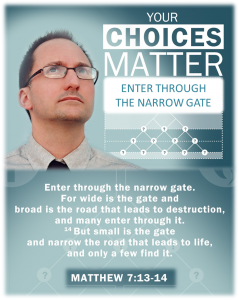 However, though simple to say, such concepts are landscape-altering life-changes. To "repent", for example, means a 180◦ turn-about in one's thinking, words, and actions. When turning "from darkness to light", nothing's the same again and this inner choice is proved outwardly, by our actions. [v20] Unfortunately for Paul such dramatic changes – which amounted to living counter-culturally – proved life-threatening, as he tried swimming against the currents of community culture adopted by his contemporaries and national leaders. [v28] And yet, if you're looking for Eternal LIFE, this is the only way to find it.[a]
Read More? CLICK to follow "16 September – Additional Notes"
But what about your thoughts – can you tell me what today's "breadcrumb" is? Leave a note in the "Comments" box below to tell me what you think of today's chapter.
Wanting to speak personally with our counter-cultural Maker? The rest of this webpage uses Jesus' own prayer to help…[b]
THE LORD'S PRAYER: 
   1.   Praise: "Our Father in heaven, hallowed be Your Name. Your Kingdom come! Your will be done on earth as it is in heaven …"
I'll praise you, Lord, with all my heart; before the "gods" I'll sing Your praises. [Psalm 138:1]
   2.   Ask: "…Give us today our daily bread…"
The World: The People of New Zealand[c]

Your Country: Children in abusive families

Yourself: Balanced Lifestyle

Your concerns for today

Thank-You Lord that You know what I need before I ask. You search my heart and You know the mind of Your Holy Spirit, because the Spirit intercedes for Your people according with Your will. [Romans 8:27]
   3.   Admit: "…Forgive us our sin as we forgive those who sin against us…"
When I go about my day, Father God, help me to remember that a fool's mouth lashes out with pride, but the lips of the wise will protect them. [Proverbs 14:3]
   4.   Protect: "…Lead us not into temptation but delivers us from evil."
May I hold unswervingly to the hope I profess; for I know Lord, that He who promised is faithful. [Hebrews 10:23]
 "For Yours Lord is the Kingdom, the Power and the Glory now and forever. Amen!"
When questioned, tested, tricked or in His hour of great need, Jesus spoke what was previously written in God's Word.[d] So, the final section on this page is about memorizing the script through 10 topics. Following these will help you learn 52 portions from the bible in a year!  THIS WEEK'S MEMORY VERSE: Prayer
"And my God shall supply all your needs, according to the riches of His glory in Christ Jesus." [Philippians 4:19]
[a] Matthew 7:13-14
[b] Matthew 6:5-15
[c] http://www.operationworld.org/country/newz/owtext.html
[d] Matthew 4:4,6,7,10; 11:10; 21:13; and 26:24,31